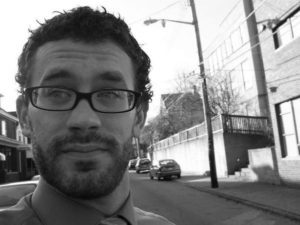 Chris Massa is the winner of the Pittsburgh Philharmonic's 2017 Young Composer Contest, a competition designed to provide local composers under the age of 35 with the chance to showcase their talents with a full symphonic orchestra.
Born in 1981 and raised in Dover, PA, Chris Massa began percussion studies at the age of six, and began composing when he was sixteen. By the time he graduated from high school, he had performed at Westminster Cathedral, Carnegie Hall, and the White House. Chris graduated summa cum laude from West Chester University, where he studied composition with Robert Maggio and Larry Nelson.
Based in Pittsburgh, PA, Chris has worked with many of area's leading independent artists, including Brad Yoder, Ben Hardt, Joy Ike, Autumn Ayers, Boulevard of the Allies, and Yours Truly. He is also the vocal and instrumental arranger for Re-Creation U.S.A., a non-profit organization whose main service is to America's Veterans Affairs Medical Centers and State Veterans Homes.
As a composer, Chris has written a wide variety of works, including two cantata/oratorios, Love Came Down and Behold the Lamb, for the combined choirs of Berks Christian and Conestoga Christian schools; Improvisations on Four American Folk Hymns and Rondo for Black Orchid String Trio; Variations on "Idumea", for bassist Ryan McMasters; Jubilee, commissioned by the York Youth Symphony Orchestra; Colors!, commissioned by the Dover Area High School Symphonic Band; North Salem March, commissioned by the North Salem Elementary Symphonic Band and performed at the 2012 PMEA conference; and An American Requiem​, commissioned by Chamber Orchestra of Pittsburgh for the fifteenth anniversary of September 11, 2001. He is a resident composer and project manager with OvreArts, one of Pittsburgh's premiere new music ensembles, and serves as assistant director of music ministries at Church of the Ascension. He lives with his wife, Elise, and their son, Caleb.
Come see Chris' work Three Arguments performed by the Pittsburgh Philharmonic May 19 and 20!