It's the most wonderful time of the year for the Pittsburgh Philharmonic!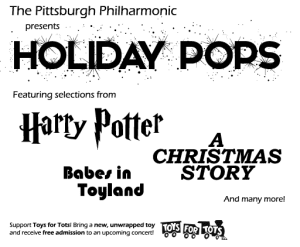 Buy your tickets for Holiday Pops today!
December 2 and 3:
Friday- 8pm at Succop Theater in Butler- http://www.bc3.edu/campus/butler/succop-theater/tickets.html
---

Bring an unwrapped gift for Toys for Tots and receive a free ticket to your choice of our March or May 2017 concerts!
---
Join the Pittsburgh Philharmonic!
We have several openings. Schedule your audition today!
The Pittsburgh Philharmonic currently has openings. We are also looking for woodwind and brass players to serve as subs as needed. Strings are welcome to audition at any time.
Additional information is available on the Auditions page, and you can find a list of our audition materials for all instruments by clicking here.

2016 – 2017 Subscription Season
Rhapsodic October 21 and 22
Holiday Pops! December 2 and 3
Bringing it All Together March 24 and 25
Tchaikovsky May 19 and 20
Subscription Series Venues
---
Friday Venue:
Succop Theater
Butler County Community College
107 College Drive
Butler, PA 16002
Time: 8:00 PM
---
Saturday Venue:
Scotus Hall
Mount Alvernia High School
146 Hawthorne Road
Pittsburgh, PA 15209
Time: 7:00 PM

---
DONATE