Congratulations to Chris Fedor, winner of our Young Artist Concerto Competition!
Chris will perform the 1st Movement of the Dvorak Cello Concerto at the Philharmonic's March 9 and 10 concerts. Learn more about Chris here!
---
2018 Young Composer Contest
The Philharmonic invites applications from residents of the Greater Pittsburgh Tristate Area. The Contest Winner will have their piece performed at The Pittsburgh Philharmonic's May 2018 Concerts and will receive a $250.00 prize. Learn More…
Due March 23, 2018
---
Opening: Music Director
The Philharmonic seeks candidates for the artistic leadership of the Pittsburgh Philharmonic. The Music Director is charged with primary responsibility for the following: training and artistic development of the Philharmonic; conducting the Philharmonic rehearsals and performances; leading Music Advisory Committee for the development of seasonal programs; and playing a visible and active role in the community to develop collaborative working relationships.
---
Currently Auditioning…
Join Southwestern Pennsylvania's premier volunteer orchestra. We currently have vacancies in the following positions:
– Oboe
– Timpani
Visit our auditions page for more details!
---
Calling All String Players!
We actively seek string players to join our ranks, particularly violinists and bassists.
Regular rehearsals occur on Monday nights 7:15-9:45pm.
Visit our auditions page for more details!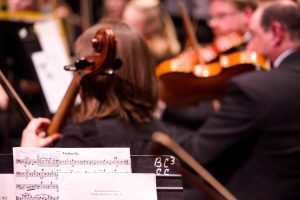 Season Venues
---
Friday Venue:
Scotus Hall
Mount Alvernia Campus
146 Hawthorne Road
Pittsburgh, PA 15209
Time: 7:30 PM
---
Saturday/Sunday Venue:
Succop Theater
Butler County Community College
107 College Drive
Butler, PA 16002
Time: 7:30/2:00 PM
---
DONATE