Concertmaster Auditions
The Pittsburgh Philharmonic will be holding auditions for the position of Concertmaster.
Auditions will be held on July 31, 2016
Interested applicants are invited to email their CV/resume and contact information to the orchestra personnel manager, Carolyn Kubik Carolyn_Kubik@yahoo.com
Deadline for application submission: July 15, 2016
Please click Here for more information on the position and audition requirements.
Come Celebrate 40 Years!
Join the Pittsburgh Philharmonic May 20 and 21, 2016 for a concert and reception celebrating our 40th Season as an orchestra and our commitment to providing quality music to the Pittsburgh area! Our celebration will feature refreshments and a raffle of contributions from local businesses.
Celebrate with us and enjoy the phenomenal sounds of our Russian Finale, featuring the music of Rimsky-Korsakov, Glinka, Stravinsky, and the Glazunov Violin Concerto performed by Carnegie Mellon's Alyssa Wang.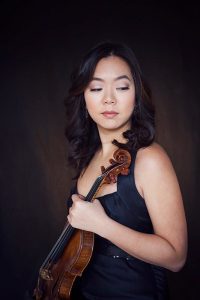 ---
Day of Giving—May 3, 2016
The Philharmonic Excited to Participate in the Pittsburgh Foundation's Seventh Day of Giving
For 40 years the Pittsburgh Philharmonic has been committed to providing quality music to the Pittsburgh area. On May 3 please help support the Philharmonic during the Day of Giving 2016!
More information on the 2016 Day of Giving is available from the Pittsburgh Foundation's website at http://pittsburghgives.org/.
---
Spring is in the Air!
The Philharmonic to feature Beethoven's mighty Pastoral Symphony in March
While the weather outside may be frightful, the Pittsburgh Philharmonic is already hard at work preparing for its March concerts, when we will celebrate Spring is in the Air! Our March 11 and 12 performances will feature the winners of our annual Young Artist Concerto Competition and our annual Young Composer Contest.
Our 40th anniversary season continues by celebrating the coming of spring with Beethoven's Symphony No. 6. Come along as we journey with the magnificent composer through his musical depiction of the Viennese countryside.
Join us on March 11 and 12 as we welcome spring back to Pittsburgh!
---
Toys for Tots and Holiday Pops a Big Success!
The Phil partners again with Toys for Tots at our Holiday Pops Concerts
The Pittsburgh Philharmonic collected toys at its Holiday Pops concerts for the U.S. Marine Corps Toys for Tots program. All patrons who brought a toy to either of our December performances received a free or reduced price ticket to an upcoming Philharmonic concert.
Now in is 69th year, the Toys for Tots program's mission is to "deliver, through a new toy at Christmas, a message of hope to less fortunate youngsters that will assist them in becoming responsible, productive, patriotic citizens." More information on this exceptional charity can be found here.
---
Pittsburgh Philharmonic Featured in the Trib
Highlights New Home at Mt. Alvernia
Our upcoming Music In Motion concerts and new home in Mt. Alvernia for our 40th Season received a nice write up in the Trib!
---
Join the Pittsburgh Philharmonic!
We have several openings. Schedule your audition today!
The Pittsburgh Philharmonic currently has openings. We are also looking for woodwind and brass players to serve as subs as needed. Strings are welcome to audition at any time.
Additional information is available on the Auditions page, and you can find a list of our audition materials for all instruments by clicking here.

2016 Summer Season
Sunday, June 19, 10:30 AM, Bach, Beethoven and Brunch, Pittsburgh Center for the Arts, Mellon Park
Monday, July 4, 8:00 PM, Fourth of July Celebration, Zelienople Park
Friday, July 8, 7:30 PM, Moon Township Park
Thursday, July 14, 7:00 PM, Crafton Park
Subscription Series Venues (September-May)
---
Friday Venue:
Succop Theater
Butler County Community College
107 College Drive
Butler, PA 16002
Time: 8:00 PM
---
Saturday Venue:
Scotus Hall
Mount Alvernia High School
146 Hawthorne Road
Pittsburgh, PA 15209
Time: 7:00 PM

---
DONATE